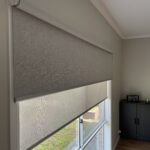 Day and Night Double Roller Blinds
Pricing starting from $150
Gain complete control over the light in your home with our double roller blinds. Also known as dual blinds or day and night blinds, these blinds combine two fabrics to provide you with the ability to control light and privacy levels at any level you want. With a range of colours and fabrics to choose from, contact us today and get the perfect blinds for your home. 
Double Roller Blinds, which are also known as dual blinds or day night blinds, fit any room perfectly. These window dressings offer complete coverage: one side is an opaque fabric that blocks all light, while the other side is a sheer roller blind or lightly coloured fabric for added privacy without blocking out natural light. 
We carry a wide variety of textured blockout blinds fabrics, so whether you want something fashionable for your windows or something more subdued, we have what you're looking for. We offer a wide variety of blockout blind fabrics in matte colors, as well as sunscreen roller blind fabrics.
Our Double Roller Blinds have the advantage of two roller blinds mounted on one bracket, with a choice of either a split or a soft edge system. The day and night double roller blind is operated by one cord so you can easily adjust the light and privacy level according to your mood.
All our day-night roller blinds are manufactured right here in Melbourne, ensuring we can keep prices affordable for all our customers. It also means turnaround times are fast and we can keep a close eye on quality. You get incredible, affordable blinds, custom-made and installed in as little as 10 days!
Modern colours and fabrics are being created constantly to keep up with current trends, but the best part is that these products are still affordable. It's no surprise you can find roller blinds in almost every Australian home.
Frequently Asked Questions
Proudly servicing the Melbourne area with no fuss installation & delivery.
Proudly servicing the Melbourne area with no fuss installation & delivery.
Have A Question?
Speak With A Specialist